Dragonite IV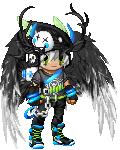 Details
Last Login

02/14/2017 4:15 pm

Member Since

06/26/2007
Gender

Male

Birthday

02/12/1993
---
Interests
About
For starters: You may call me Jakey

I am 23 years old. I have an amazing boyfriend who is NOT on Gaia. c:

I am:
- An animal lover
- A gaymer
- A f**
- A music lover

- Very friendly
- Not very talkative


I like:

- Cute things
- Scary things
- Sweets
- Nice people
- Pretty people


I'm a sucker for a cute guy. I am probably the biggest flirt you will ever meet. In spite of not being very talkative, if you get to know me I will probably annoy you with how much I can actually talk.
Friends
Viewing 12 of 72 friends
Multimedia
Signature
I just want you to love me. yum_coldone