About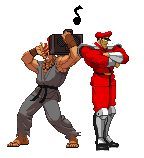 http://youtube.com/theworthlesshero


hey whats up, im dr.what. I am currently a freshman at SUNY Plattsburgh studying english.Im 18 years old and enjoy comic books, movies, and music.

QUOTES
"It's not a go-gurt,leave it alone."(matt )
"quickly,its a chest hand emergency"(paul)
"I sleep with the Excalibur, to better fight the demons in my dreams"-dave alley
[me sitting on my friend shauns lap]
Shaun:get the ******** off my lap.
Me:Oh please we've slept in the same bed,I'm allowed to sit on you're lap.
Shaun:Don't ever say that again!!!
"You know, Minister, I disagree with Dumbledore on many counts...but you cannot deny he's got style..."
- Phineas Nigellus
Kincaid reached into the van and presented me with a futuristic-looking weapon, a gun. It had a round tank the size of a gumball machine attatched to the frame, and for a second I thought I had been handed a pistol sized flame thrower. Then I recognized it, cleared my throat and said, "This is a paintball gun."
Wat: Say something about her breasts.
Roland: Yeah, you miss her breasts.
William: Her breasts?
Chaucer: Ye... yes, you... you could, umm... umm... but I... I would tend to look above her breasts, William.
William: Her throat?
Chaucer: Uh, still higher really, toward the heavens.
Kate: The moon at least, her breasts were not that impressive.
Paul: Okay, we bet- what time is it?
Peter: 8:40.
Paul: That in, let's say, 12 hours all three of you are gonna be kaput. Okay?
Anna: What?
Paul: You bet that you'll be alive tomorrow at 9 o'clock and we bet that you'll be dead. Okay?
Peter: They don't want to bet.
Paul: Well it's not an option. There has to be a bet.
[turns toward camera, breaks fourth wall, addressing the audience]
Paul: I mean, what do you think? You think they stand a chance? Well, you're on their side, aren't you? Who are you betting on, hmm?
Peter: But, wait, what kind of bet is this? If they're dead, they can't live up to their side. If they win, they can't live either.
Paul: Yes, they'll lose either way. That's what I'm saying.
[Mal has his gun drawn while having a discussion with the vault guard of the bank he's robbing.]
Mal: The leg is good; it'll bleed plenty and we avoid any necessary organs.
Guard: I was thinking more of a graze.
Mal: Well, you don't want it to look like you just gave up.
Guard: No, I get that.
Jayne: [yelling from upstairs] Mal!
Mal: Every heist he's gotta start yelling my name.
Matt Buckner: What are you talkin' about, baseball is a girl's game? The Red Sox has a guy that pitches the ball over 90 miles per hour!
Pete Dunham: Who cares? All that means is that he can have a wank faster than you.
Jeff Bebe: I can't say anymore with the writer here.
Russell Hammond: No, no, no. You can trust him, you can say whatever you want.
Jeff Bebe: I work just as hard or harder than anybody on that stage. You know what I do? I connect. I get people off. I look for the guy who isn't getting off, and I make him get off.
Jeff Bebe: [to William] Actually, *that* you can print!
joker:"I did it! I finally killed Batman! In front of a bunch of vulnerable, disabled kids!!!! Now get me Santa Claus!"
"I will eviscerate you in fiction. Every pimple, every character flaw. I was naked for a day; you will be naked for eternity."(Geoffrey Chauncer)
"you hear that ,God,ive seen through you're secret plan,no matter how smart,how clever we all think we are,ultimatley we all know,i know,NOTHING!s**t"(bickford shmeckler)
[Deadpool is attacking the Great Lakes Avengers]
Deadpool: (caption) Today I'm spreading my menace all over a bunch of renegade, trouble-making super-hero wannabes called the Great Lakes Avengers.
Mr. Immortal: We're the Great Lakes Champions now!
Deadpool: (caption) Weird, how he could read my captions like that? Anyway, the team of Mr. Immortal, Flatman, Doorman and Big Bertha. Please don't ask me which is which. You might think they're bigger feebs than the New Warriors, and you'd be right, but I needed a notch in my hero-hunting belt.
Mr. Immortal: We are not feebs!
Deadpool: (caption) Hey, that's twice now. What's going on here?
Big Bertha: You're saying everything out loud!
Deadpool: (caption) I am?
Big Bertha: YES!
Deadpool: (caption) Oh, weird. Coulda sworn I was in first person narrative form
Deadpool: See how you like it when I smack you with an interspatial distorter that will temporarily phase your brain into Dimension X!
Daredevil: ...This is an iPod with a piece of masking tape attached to it.
Deadpool: It is. Ah, but for a second there, you were really worried!
Martha: It's like in the films! You step on a butterfly, you change the future of the human race!
The Doctor: [Bemused] I'll tell you what then, don't.... step on any butterflies. What have butterflies ever done to you?
Martha: What if.... I dunno! What if I kill my grandfather?!
The Doctor: Are you planning to?
Martha: No.
The Doctor: Well, then.
Demetri Martin: I like staying at hotels because you can leave a message for somebody and you don't even need to know their name. So just like a room number, you know? "Hey, could I get a pen? I just wanna... My friend's in 710, thanks.
[writing]
Demetri Martin: Leprecaun's gonna ******** you up at midnight." "Honey, what the hell is this? Did you anger a small Irishman?"
"A drunk driver is very dangerous. So is a drunk backseat driver if he's persuasive. 'Dude make a left.' 'Those are trees…' 'Trust me.'"demetri martin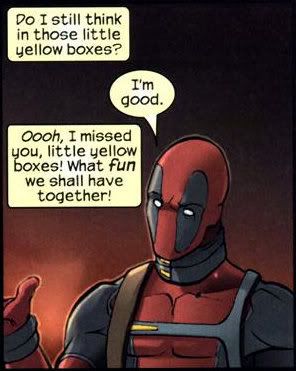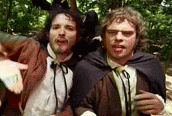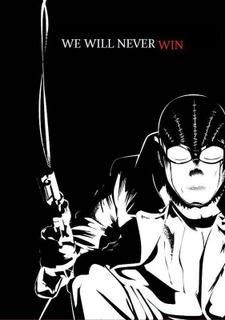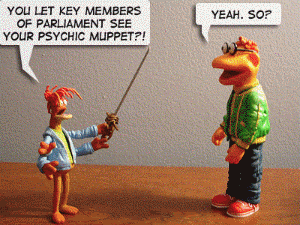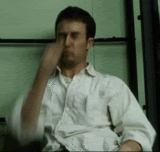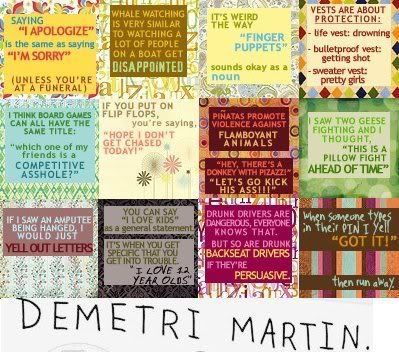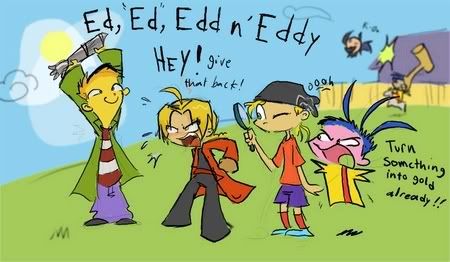 [********]
Friends
Viewing 12 of 82 friends
Journal
the inner workings of my hyperactive brain
take a look into my mind and see just how dark and twisted i can be.
Signature
"I sat there, seizures of suppressed laughter trembling through my gut. Gotta cut that out. Inappropriate laughter is the universal first sign of madness."