About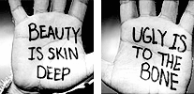 Hola Sunshine, the Earth says Hello!
My name is Bianca & I am twenty-three years old.
This is my new profile.
I have been on gaia before for a couple years,
but I got into work & school so I'm just getting back to this.
I work in the medical field & just graduated college! Yay!
Graduate school around the corner!
❤ Taken since 03.07.2015 ❤
I made this account to get back into writing poetry && stories.
It's a great place to release my stress, plus get some input.
I'm totally okay with making friends though so don't
hesitate to say hello to me.