Dr Pen0r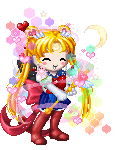 Details
Member Since

05/06/2007
Gender

Female
About

I'm lousy with keeping in contact, so don't get offended.


I listen to Swedish indie pop and I collect Sailor Moon items from the 90's, and I suck at these presentations.

Overall, I'm a decent person.
Friends
Viewing 12 of 253 friends
Journal
Dr Pen0r's random thoughts :]
i'll post pictures, and anything that's on my mind here :] comment my lovelies <3
Multimedia
Signature
The name is Josefin.