About

No sense being pessimistic. It wouldn't work anyway. :D

Name: Dr. Koji Kotobuki
Call me Koji. Or Kotobuki. Or Doctor. Doesn't really matter.
Age: Legal :D
Date of Birth: July 23, 1989
Likes: Drawing, reading, hanging out with friends and SHINY things
Dislikes: Jerks, intolerant people, HARDCORE yaoi, milk and work
Status: Single and happy
Favorite video game character: Baiken from Guilty Gear or Ivy from Soul Calibur
Favorite anime character: CAPTAIN HARLOCK, Neuro from Majin Tantei Nougami Neuro, Tatsuki from BLEACH, Hiruma from Eyeshield 21 or Biko ( heart ) from Muhyo and Rouji
Favorite anime/manga: BLEACH, The Demon Ororon, The Kindaichi Case Files, NANA, Eyeshield 21, No Man's Land, Higurashi no

Na

ku koro ni, Dennou COIL, Majin Tantei Nougami Neuro, Muhyo and Rouji's Bureau of Supernatural Investigation, Uchuu Kaizoku Captain Harlock, Baccano!, Tengen Toppa Gurren Lagann, Bloody Monday, Cosmo Warrior Zero, Berserk, Gantz, Kuragehime, Durarara!!, Star Driver (it's just so fabulously glam, I can't even deal xD)
-------
- BLEACH > Naruto
- Even so, Shikamaru is hot
- Current Projects: SHI/FT
- Current Joint Projects: none
- I can be found in the GCD and the B/C
- I own a joint art shop, Always Take Your Meds, with the lovely Hindoso. Stop by sometime ;D
- If you REALLY love me, you'll go hit up G-chan and make her happy
- I <3 art.
- I have an obession with John Parker from Seven Seas Entertainment's No Man's Land. The man is so damn sexy.
- I am a Rare Art and Item Hunter. I slaughter villages. xD




That's right people. I'm a Donum. Which suits me well. Which is creepy.
What Gaian Astrology Sign are you?




Oh, and please help me take care of my babies. <3
Friends
Viewing 12 of 167 friends
Journal
The Kotobuki Clinic
For all your comedic, medicinal and bizarre needs! :D
Signature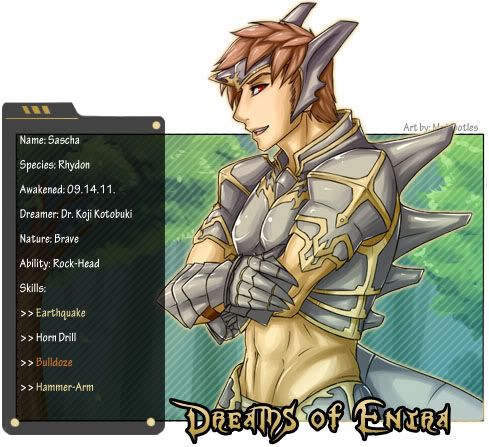 Make her a member of the Midnight Crew.

I live in Japan!