Dr Henry McCoy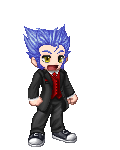 Last Login: 11/05/2016 7:55 pm
Registered: 08/25/2006
Gender: Male
Location: Clapham, London, England.
Interest Tags
Favorite Movies/Anime
Favorite TV Shows
Favorite Reads
Favorite Music/Bands
Hobbies/Interests
Wish List
About
Woah, this is outdated . . . I think the last time I worked on this page was when I joined. Still, better obscenely late than never, eh? So . . .
Loves;
- Doctor Who
- Star Trek
- The Beatles
Hates;
- People who stand in hall/door ways
- Double negatives
- Chavs

This should probably go in interests or something, but whatever.
Signature