~Hello and Welcome~
For those of you who don't know already know I am dolphingurl. I can often be found on gaia in the breedable forum, in shops such at Soquili, Mystical~Realm, Nikko Pup Lodge, The Enchanted Isle(my own shop), along with a few others. I love to make new friends, but I don't just want people sending me friend requests then never taking to me again. I can be somewhat shy at times, so don't wait around for me to say hi first. If you would like to talk please feel free to pm me, I like getting pms.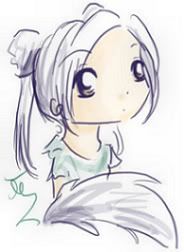 ~
Some Nicknames:
Dolphin, DG
~
Likes:
* Dolphins
* Orcas
* Friendly People
* The colors blue, green, and silver.
* The Ocean
* Animals
* Feeling like I belong.
~
Dislikes:
* People asking for my things.
* Rude people
* Feeling Alone
* Chain Letters
* The color pink
* Random Friend Request from people who never actually talk to me.


Well there is some info about me, I hope you enjoyed looking at my profile.