dokibun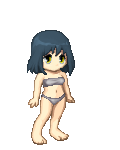 Details
Gender

Female

Birthday

11/26
About
invisible scroll on comments, about, and wishlist ☆
hi there, i'm dokibun! you can call me rii or doki
i'm 20 years old and i'm kinda lost in life, to be honest.

i love vvednesdays and furtif and nurse lunabutt a lot

i really like dogs and rabbits and bats. they are super cute. ☆

i'm a lesbian so if you're a guy and you want more than a chat,
please drown yourself in a volcano

i'm a big nerd who doesn't have too many interesting
qualities, but i really hope we can still be friends!

thanks so much for stopping by.
Friends
Viewing 12 of 88 friends
Journal
dokibun's diary ʕ•ᴥ•ʔ
Multimedia
Signature




Code:
doki || 20 || crybaby



3DS ::

1220-7305-5614
sig art by

ITSA M3 AIDS
ヾ(๑╹ヮ╹๑)ノ" that's all!