all you need to know, babe
Name: Shiboi (real name is Eloise but she doesn't know due to raising herself)
female
age: looks to be in her early twenties. probably around Dante and Vergil's age
race: half demon
weapons: sword-Black Angel, pistol-Demon Blood/bloodlust(devil trigger with necklace on)
vehicle of choice: motorcycle- eventually stops working due to old age
family: father- Ragnus, mother, Brother- Damien, Vergil- technical step brother
love interest: Dante
occupation: Demon Hunter or "Devil Hunter"
affiliation: Devil May Cry
title: Daughter of Ragnus, black twin
weakness: that's for me and who ever I want to know. Its none of your concern - Shi
strengths: that's for me to know and for you to shove your head where the sun don't shine - Shi
favorite food: Pizza-preferably pepperoni
preferred drink: anything virgin(no alcohol) unless said other wise
favorite place: Dante's bed (which they share), the roof of Devil May Cry, the couch.
least favorite place: the lair of her father, any place she can smell straight on beer
favorite thing to do: sleep, kill, eat, ride bike, sleep (need I say more)
least favorite thing to do: constantly dying hair black, fighting with younger twin, being forced to listen to father
how to deal with bad mood: just put on rock music really loud and wait for her to crash on the couch.
quote: "Let's Ride!"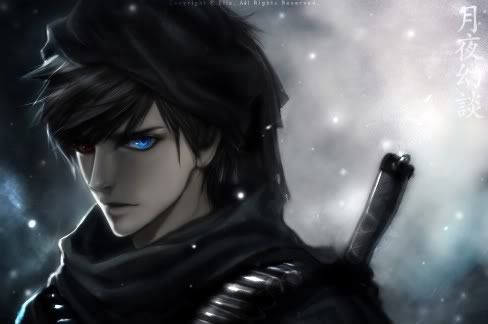 Jennifer Wayne (Harper)
http://pandora-the-wolf.deviantart.com/art/Red-Rose-362527010?ga_submit_new=10%253A1364682403&ga_type=edit&ga_changes=1&ga_recent=1

Jennifer wayne, formerly Harper, is the second oldest adopted child of Bruce Wayne and the only noted cousin and living bloodline of Roy Harper. Jennifer was 10 years old when she witness the murderer of her parents by joker's hands in the midst of it batman had jumped In before her own death. After batman had thrown joker into jail he met Jen again as Bruce and had gotten custody of her as she had no other living family, besides Roy, to take her In. The same day she met Richard Grayson, who was 13 years old, and instantly became friends. Over the years she had worked as one of the partners of batman with the mantl, rose. She was rose till she was 16 where she moved out after recovering from her depression after her brother, Jason's death. She had become Black Bird and worked as Nightwing's partner after moving in with Richard in bludhaven. Several years later after damian was born she was supposedly dead do to a severe wound that was not treated in time.

Jennifer wayne's reincarnation.
Rouge Wayne-Hellsin is reported to be the supposed reincarnation of Bruce wayne's late adopted daughter, Jennifer. Due to having her skills and knowledge wayne had taken the homeless teenage in and she became the new Batgirl. She started to work along side the new batman, Terry mcginnis. Eventually falling in love with him even though she has jennifer's memories of being in love with d**k Grayson. She pushes most of Jennifer's memories aside to focus on her own life. She spends most of her time taking care of Bruce rather then help Terry. (Under construction)