About
Final Fantasy VI
when I was 5 (I'm 23, now). I'm into most things fantasy, which is where my nickname comes in. The DM in my username is short for "Dragonmaster," which is my nickname. Anywho, I'm also an aspiring country music singer/songwriter lookin' to get to Nashville one day...

That's the real Draco. By the way, the sword is real, too!

Friends
Viewing 12 of 100 friends
Multimedia
Signature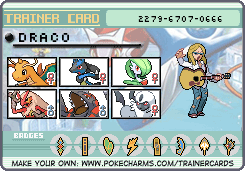 Ready for a challenge?