DJ Osiris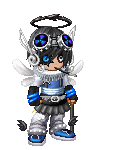 About
Hey whats up. I'm Jordan.

I Love being friends with everyone I meet.

I don't like to judge and don't like being judged.

I've been through a lot of crap in my life, and honestly, I think its made me a better person.

I like to think of myself as random.

People tell me I'm funny. I'm usually shy and like people talking to me to break the silence.

I don't like when people insult others to try and be funny. It shows a lack of humor.