Custom
DizzyClone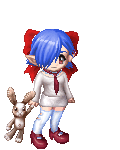 Last Login: 09/17/2011 4:03 pm
Registered: 07/21/2003
Gender: Female
Location: alone somewhere
Equipped List
Interest Tags
Favorite Movies/Anime
Favorite TV Shows
Favorite Reads
Favorite Music/Bands
Hobbies/Interests
Wish List
About
*DO NOT SEND ME FRIEND REQUESTS* I'm probably too old for you and we have nothing in common.

I'm so spectacularly sick of Naruto. Dragonball N, I like to call it. Yet this doesn't stop total strangers with Naruto AMVs, pictures of Hinata and Naruto kissing and countless other things in their profile from sending me random friend requests. That alone shows me you didn't bother reading my profile before sending your friend request and it will be shot on sight.

I love ninjas, you know.. stealthy one hit, one kill slink in the shadows, find you and murderlate you NINJAS. As goes with the stereotype, I've got an aversion to pirates, and as such, I'm willing to challenge any pirate to a battle of wits or brawn.

That being said, Naruto is as much a ninja as Barbie is a fairy princess.

Do take care when conversing with Bridget, as known side effects may include dry mouth, nausea, dizziness, shortness of breath, water retention, painful rectal itch, coma, death, and halitosis. Bridget is not for everyone, consult your doctor before use.