Disgruntled Guava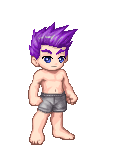 About
Who Am I?

How Would I Be Defined?

Disgruntled Guava--

[noun]:

One Who OWNS your a**!

b]What to know....
I'm Elijah. I love movies and music. I like to play video games. I love making new friends.
Feel free to message me, or leave a comment. I'm a pretty friendly person for the most part.
[/b]

<3 Avatar Art <3

By: SweetPinkPoison

By: Narcissistic Nectarine
Journal
How To Lose One's Sanity
Please just don't play with me.
My paper heart will bleed.
This wait for destiny won't do.
Be with me, please, I beseech you.
Simple things, that make you run away.
Catch you if I can.
Just... I suppose anything I feel like typing out... It's rarity you'll get any journal entries from me... unless I just really feel like ranting out.
Multimedia
Signature
"Life can be wonderful, if you make it wonderful.... Unless it bites you in the a**."