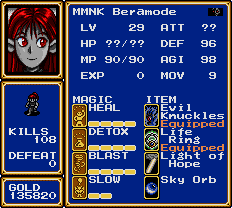 Salutations! I'm K. and this is my profile~
I am a graphic designer by trade. I've been down with Photoshop for at least fifteen years now.
I've been a gamer longer than I can remember. I started on a TI-99/4A silver and still continue with the hobby to this day.
My favorite series of games:
Sengoku Basara
Onechanbara
Phantasy Star (originals)
Shining Force (originals)
Samurai Spirits
King of Fighters
DJMAX
Magical Drop
Metal Slug
I am also very much interested in writing and literature. Kafka and Baudelaire are my idols.
I also roleplay from time to time but am very advanced (read: no decorative formats and a high level vocabulary) so the easily intimidated need not apply. ♡
Music is a huge factor in my life, and has been since before I was born.
My favorite artists:
BUCK-TICK
Kishidan/DJ OZMA
Denki Groove
The Cure
Bauhaus
Shiina Ringo
Depeche Mode
My favorite anime is the original Lupin III series and my favorite manga is Gintama. The anime/manga characters I'm the most like are Boa Hancock and Sakata Gintoki!
My favorite television shows are all pretty old.
I Dream of Jeannie
Red Dwarf
The A-Team
The Addams Family
Futurama
Kojak
Hope you enjoyed your visit to my incredibly basic profile.