About
My birthday is on the 27th of December, so if you got unwanted item or any gifts you want to give me feel free to donate during that day... or now preferably hehe....I was joking

. Birthday is just a normal day for me since none of my parents celebrate birthdays and I don't really care much about birthdays except on facebook I need at least 10 statuses wishing me birthday hahahahaha that's a joke too.
Does anyone have a 3DS here? Well I have one, and i have about...zero friend codes.. if anyone is interested in adding my friend code, here it is: 1118-0244-4714. I own quite a lot of 3DS games such as, The Legend of Zelda: Ocarina of Time, Kingdom Hearts 3D and Kid Icarus:Uprising, I couldn't remember anything else. I also play some of those Virtual Console games, such as, Fire Emblem: The Sacred Stones. That's the only Virtual Console game I like to play and nothing else.
Besides a 3DS, i also own a DSi, I don't play much on that lately since I was too busy playing Kingdom Hearts 3D, But I sometimes play Pokemon Conquest or Pokemon Black. My friend code for Pokemon Black is: 0991-1165-7891. So add me and PM me yours so we can become Pokemon friends and maybe have a little battle(I don't even know how to properly train them so they'll probably get fainted with first hit

) or trade( I WANT YOUR POKEMON).
Does anyone watch any Animes here? I watch D.gray-man lately, Pokemon, Digimon, Dragon Ball and Fairy Tail. Fairy Tail is currently my favourite anime to watch, and i LOVE JUVIA. Juvia is my favourite character and her magic too. invulnerable to physical objects, SUUUPER!. I really love the way she talks, like without saying I or me. She uses her actual name talking in third person. LOVE IT. And I usually love characters or names that has uncommon characters such as v, z, x, q, y such like that. They just make the word sound so much cooler hahaha, it's just me. But I heard Fairy Tail is ending which is going to make me all depressed since I've been started watching it this year and I'm in love with it.
Do you want to know more about me? Feel free to PM me and we could have a little chat about basically anything or even something above ^

Thank you for reading this long useless section of my profile. ( all part of my profile is useless anyway... blocked Comments, so don't try)
Friends
Viewing 12 of 28 friends
Signature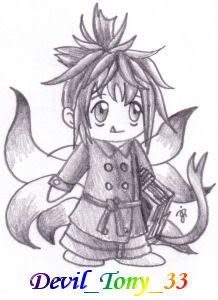 Pokemon Black
Name : Tony
FC : 0991-1165-7891
3DS
Name : Tony
FC : 1118-0244-4714
please PM me if you added me, and send me your FC as well, that would be great