Xx_Nickle-Plated_Idiot_xX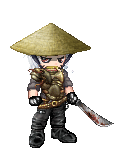 Last Login: 03/23/2008 1:00 pm
Registered: 12/23/2006
Gender: Male
Location: Here, there...anywhere I like.
Equipped List
Interest Tags
Remind me to update my interests.
Wish List
About me? Well...
We spoke once, the Devil and I. He found me at a crossroads in a far place.
"Be not afraid," he said, "We are but travelers on the same dark road."
He spoke not as thunder, but in the voice of a child, weeping scarlet tears from behind a porcelain mask.
I knelt to listen, and he whispered to me the awful secrets of Almighty God's twisted universe. I shall not repeat what I was told.
For, one day, you will find yourself at a crossroads in a far place, and you will, perchance, meet the Devil as well.

Signature