Top 10 favourite animes
1. Shaman King
2. La Corda d'Oro
3. Ouran High School Host Club
4. K-ON!
5. Kamikaze Kaitou Jeanne
6. Full Moon wo Sagashite
7. Code Geass: Lelouch of Rebellion
8. Rurouni Kenshin
9. Princess Tutu
10. Ginban Kaleidoscope
Top 10 Favourite mangas
1. Shaman King
2. Vampire Knight
3. La Corda d'Oro
4. Kamikaze Kaito Jeanne
5. Gentlemen's Alliance
6. Full Moon O Sagashite
7. Maison Ikkoku
8. Special A
9. Anima
10. Dramacon
Equipped List
Interest Tags
Favorite Movies/Anime
Favorite TV Shows
Favorite Reads
Favorite Music/Bands
Hobbies/Interests
Wish List
Forums
Posts per Day: 0.40
Total Posts: 1482
Destinys-Spirits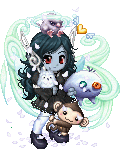 Last Login: 10/12/2010 2:50 pm
Registered: 12/31/2006
Gender: Female
Location: England (South West)
About
Yo, I'm Fiona or Fi

Usually known as CrystalNeko or NekoNekoStar.

A student student studying Maths, Physics and Music.

I like creative things like music, dance and art. I like to cosplay as well.

My favourite animes are Shaman King, La Corda d'Oro and Ouran High School Host Club
Favourite mangas are Shaman King, La Corda d'Oro, Vampire Knight and anything by Arina Tanemura
Favourite video games are Persona 4, Persona 3, Final Fantasy IX and Street Fighter

I like Vocaloid, a lot!

I'm not as active as I once was on GaiaOnline, but I do pop by every now and then.
Journal
Destinys-spirits' journal
Basically whatever I feel like writing
Completed Cosplays
{Latest first}
Sakura Hime {Prologue/Dream dress} [Tsubasa RESERvoir Chronicles]
Haine Otomiya [Gentlemen's Alliance]
Naoto Shirogane {Summer Casual} [Persona 4]
Princess Tutu [Princess Tutu]
Alto Saotome [Macross Frontier]
Mitsuru Kirijo [Persona 3]
Meroko Yui [Full Moon wo Sagashite]
Haine Otomiya {Cocktail} [Gentlemen's Alliance]
Jeanne [Kamikaze Kaitou Jeanne]
Takuto Kira [Full Moon wo Sagashite]
Mitsuki Koyama [Full Moon O Sagashite]
Haine Otomiya {Rose Ball Dress} [Gentlemen's Alliance]
Princess Garnet til Alexandros XVII v2.0 [Final Fantasy IX]
Tomoyo Daidouji [Card Captor Sakura]
Misa Amane [Death Note]
Rinoa Heartilly [Final Fantasy VIII]
Adelbert Steiner [Final Fantasy IX]
Miki [Shugo Chara!]
Hao Asakura [Shaman King]
Kahoko Hino {Artbook} [La Corda d'Oro]
Princess Garnet til Alexandros XVII v1.0 [Final Fantasy IX]
Great Saiyaman [Dragonball Z]
Sakura Hime [Tsubasa RESERvoir Chronicles]
Haruhi Suzumiya [Melancholy of Haruhi Suzumiya]
Sakura Kinomoto {Snow Card} [Card Captor Sakura]
Ritsuka Aoyagi [Loveless]
Haruhi Fujioka [Ouran High School Host Club]
Kouga [Inuyasha]
Yuna {Mascot Dressphere} [Final Fantasy X-2]
Riku [Kingdom Hearts 2]
Misa Amane [Death Note: The Last Name]
Duo Maxwell [Gundam Wing]
Commisions
- Luka headsets [Vocaloid]
- Gothic Lolita top hat
- Akatsuki Coat [Naruto]
- Original Gothic Lolita {Birthday present}
In Progress cosplays
{In no particular order of appearance}
- Seth Nightroad [Trinity Blood]
- Naoto Shirogane [Persona 4]
- Asuka Langley Soryu [Evangelion]
- Mio Akiyama {Don't Say "Lazy"} [K-ON!]
- Mio Akiyama {Listen!!} [K-ON!!]
Planned/Future cosplays
London MCM Expo Oct 2010:
- Simon [Tengen Toppa Gurren Lagann]
- Rin Kagamine [Vocaloid]
- Haine Otomiya [Gentlemen's Alliance]
- Yoh Asakura [Shaman King]

Minamicon 17:
- Blair [Soul Eater]
- Kahoko Hino [La Corda d'Oro]
- Mio Akiyama [K-ON!]
- Yuki Cross [Vampire Knight]

Kitacon 3:
- Rin Kagamine [Vocaloid]
- Ash Ketchum [Pokemon]
- Sheryl Nome [Macross Frontier]
- Naoto Shirogane [Persona 4]
- Cosmo [Fairly Odd Parents]
- Black Rock Shooter [BRS]

Japan Expo:
- Sheryl Nome [Macross Frontier]
- Seth Nightroad [Trinity Blood]
Top 10 Dream Cosplays
- This list has changed, will update when I can be bothered -

Don't really have much of a dream costume anymre tbh 8|