Destiny Fallacy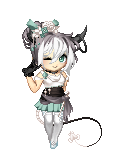 Details
Last Login

07/30/2014 11:06 pm

Member Since

09/26/2005
---
Interests
Favorite Movies/Anime
Favorite Music/Bands
Hobbies/Interests
About

STR 10+2-1
DEX 14+3+6
CON 8+4
INT 18+3+5+6
WIS 16+11
CHA 14+5
speed 70
HP 120

GUILDS:
AKD
Psi Chi
Denver Museum of Nature and Science
Denver Botanic Gardens
C.P. Gillette Museum of Arthropod Diversity
Colorado State University
University of Colorado at Colorado Springs
George Washington University
Georgetown University

QUEST LOG:
I am currently in the forensic science graduate student working a Master's and hopefully a PhD in the near future.
Right now I'm leading a GC-MS fingerprint residue analysis project and just finished helping out on a high velocity bloodstain reproduction project. It is marvelous.

I paint, doodle, and craft in my spare time. If you'd like to see some of my work, visit anirasilver on DeviantArt, or visit my shop on Etsy, redandwolf.
If you'd like to request art, please contact me via Etsy rather than PM me on Gaia, as my inbox on Gaia gets a little clogged with site messages.
I do not do ANY sort of photography.

EXP:
I study entomology, forensics, criminology, psychology, sociology, mechanical engineering, architecture, horticulture, medicine, cooking, herpetology, chemical analysis, bookmaking, fingerprint science, and a lot of other stuff for fun. I also like reading books by N. Gaiman and T. Pratchett.
I have two fish and two box turtles.

SIDE QUESTS:
Reading: Snuff, Terry Pratchett
Watching: n** Tuck
Working on: GC-MS AA analysis presentation for Monday
Cooking: Some sorta chicken with angel hair pasta and a white wine-garlic sauce with oyster mushrooms and so much butter.

Ciao~!

Friends
Viewing 12 of 62 friends