DemonVampire180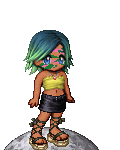 Last Login: 09/02/2011 4:42 pm
Registered: 05/23/2007
Gender: Female
Location: MN
Birthday: 10/08/1992
Equipped List
Interest Tags
Favorite Movies/Anime
Favorite TV Shows
Favorite Reads
Favorite Music/Bands
Hobbies/Interests
Wish List
About
Alrighty than. Hi people. I'm Stacie and right now, I can tell you my favorite things in the world are Anime, Manga, and music. I'm also into yaoi/yuri and I love writing! Fanfics and original creations. It's fun actually.
I just currently ended a relationship with my girlfriend of five months... It was quite sad and I made her cry which I am sorry for... I write poetry and sing... My nickname is Ichi/Ichigo so please call me whatever you'd like... I am a b***h and I'm sorry for being one...

Journal
Life Is What You Make It
Stories... Thoughts... Feelings of why life is going to hell...
Signature
Love is something you're supposed to protect so why do so many people try to destroy it?