About

||

disclaimer::

||

i hate pandas
1) deffy is mommy to 2 hyper boys, so she will vanish on you from time to time... sorry in advance.
2) deffy loves the report button<3
3) deffy does NOT take random friend requests! i am very proud of my very small friendslist <3
4) deffy gets busy on weekends.
5) deffy supports and loves the act of giving and donating! if you haven't yet, go find a nice charity or quest to support. giving is good!!!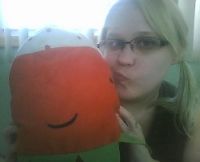 Ello! You can call me Deffy<3
(users name is spelled with an " i " not an "L" )
I have been on Gaia since August of 2003 and have bounced from forum to forum over the years. I love this site, and don't really intend on leaving any time soon. I have held many different accounts and hosted many different threads and guilds over the years, and consider the forums as my favorite part of the site.(I have never even tried the cars or most of the games. XD )
These days you will find me in the ART/BC/QA forums... or lurking around in random places. I LOVE giving random donations and generally spend all my gold on people I find nice and itneresting. I enjoy meeting new people, so feel free to send me a PM or quote me sometime.
I have 8 Gaia wives (Mushi, psychotic_gal, Rodidor, Melancholy Gypsy, ll 77 ll, Lady Niara, -=Urumi_Sakura=-, KizaSapphire), and a 'Master'(MaidenLimbo)... whom are some of my favorie people I have met over the years, and i luffles them to death!
*Although the titles are mostly for fun.

I spend all my off-line time reading or writing or spending time with my two boys. I enjoy all kinds of books and regularly spend my saturday nights reading with my doggy and kitty for company. My real name begins with a J and I am currently in my mid-twenties. It's crazy to think I started this site when I was 15!
***I can be contacted off-site through AIM, YIM, MSN, Skype, DA, Email. If you want one of these just ask.


For a profile like mine click
here

[ Draw Me ]
[ Azrein ] [ Leeuw ] [ Unicorns ]



Helpful Links


[ ToS ]
[ Rules&Guidelines ]
[ FileATicket ]
[ HackPreventionGuide ]
[ ReportScams ]
[ ReportHacking ]
[ ReportHarassment ]
[ ReportAnAd ]




Multimedia