About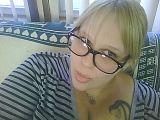 ||

disclaimer::

||

i hate pandas
1) deffy is mommy to 2 hyper boys, so she will vanish on you from time to time... sorry in advance.
2) deffy loves the report button<3
3) deffy does NOT take random friend requests! i am very proud of my very small friendslist <3
4) deffy gets busy on weekends.
5) deffy supports and loves the act of giving and donating! if you haven't yet, go find a nice charity or quest to support. giving is good!!!
Ello! You can call me Deffy<3
I have been on Gaia since August of 2003 and have bounced from forum to forum over the years. I love this site, and don't really intend on leaving any time soon.
Most of the time you will find me in the ART/BC/QA forums... or lurking around in random places. I LOVE giving random donations and generally spend all my gold on people I find nice and itneresting. I enjoy meeting new people, so feel free to send me a PM or quote me sometime.
I Spend all my off-line time reading or writing or spending time with my two boys. I enjoy all kinds of books and regularly spend my saturday nights reading.
***I can be contacted off-site through AIM, YIM, MSN, Skype, DA, Email, and Facebook. If you want one of these just ask.

---Defs Gaia Infos---
---Defs IRL Infos---
Name::
starts with J...>.>
Age::
24-ish
Sex::
female
Marital Status::
single
Eye Color::
green
Hair Color::
blond
Sins::
wrath, lust, envy
FormerlyKnowenAs::
MidnightRaven, RavenEyez, Inoriko, Ayashiiko, HAL0, x-DeathBeforeDishonor-x, i!Flutterby!i, 0---Vyxin---0, Shihoriko, i!_Syn_!i, IMAIDY, MissMeretricious, MissMistletoe, iLuvBunnyi, Trixkkx
FormerThreads(for if you think you know me)::
'Wings of Death'(RP thread), 'Wings of Death: Questor's Charity', 'Synthetic Glow Charity', 'Impress Me and I'll Dress You!'(aka IMAIDY, V1 & V2), 'Dark Chest of Wonders'(charity), 'defauit.exe: art and graphics', 'id give my undies', 'fortune favors'

For a profile like mine click
here

[ Draw Me ]
[ Azrein ] [ Leeuw ] [ Unicorns ]



Helpful Links


[ ToS ]
[ Rules&Guidelines ]
[ FileATicket ]
[ HackPreventionGuide ]
[ ReportScams ]
[ ReportHacking ]
[ ReportHarassment ]




Friends
Viewing 12 of 39 friends