Dear Serenity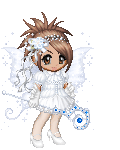 Details
Member Since

09/09/2006
---
Interests
About
:
P I love video games and computer games.
:
D I laugh at just about everything haha
:
) I'm really easy to get along with, except I'm really shy. :c
random loves; God. family. him<3. my kitty. music. Sailor Moon. anime. horror movies. sour candy. granola bars. fruit gushers. coca-cola. summer time. texting. chilling. sleeping. hugs. shopping. looking at stars. flying. traveling. laughing. smiling. peace. making people laugh/smile. having sweet dreams.
random hates; him. death. spiders. being lied to. stress. time. being cold. bad grades. war.
Signature
Breathe me in.

Currently: A cute, little fairy angel who fights for peace. She may look naive, but she is full of courage and will protect anyone from harm.