Dear Serenity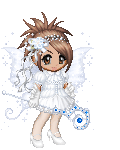 Details
Member Since

09/09/2006
---
Interests
About
:
) People tell me I'm super gullible and naive.
:
P I love video games and computer games.
:
D I laugh at just about everything haha
:
) I'm really easy to get along with, except I'm really shy. :c
random loves; God. family. friends. my kitty. music. track&field. Sailor Moon<3 watching horror movies. sour candy. granola bars. fruit gushers. coca-cola. spring time. summer time. texting. chilling. sleeping. hugs. shopping. looking at stars. flying (airplanes). going out for lunch during school with my best friends. going to IHOP at night with friends and causing trouble. traveling. laughing. smiling. using my imagination. peace. making people laugh/smile. having sweet dreams. and so much more<3
random hates; her. death. spiders. being lied to. stress. time. being cold. taylor swift. bad grades. war.
Signature
Breathe me in.

Currently: A cute, little fairy angel who fights for peace. She may look naive, but she is full of courage and will protect anyone from harm.