Davidicus Bellefonte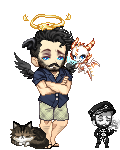 Registered: 08/07/2004
Gender: Male
Birthday: 10/08/1988
About

This is me, to the left. I'm David, and I'm 25 years old, and I live in California. Above the captitol, Sacramento. I'm considered to be from Nor-Cal. There aren't beaches and surfing here. There's a forest.
I am gay, and consider myself a

Bear/Cub

I have been on Gaia for 9 years. Since 2004. I really love the site. I also love, Music of almost

any

genre. Yes, that means country music too. Some of my favorite songs are country. I even like some dubstep, rap, hiphop, pop, electronic, indie, jazz, and soul. Metal, rock, and the like are common favorites.
I love anime, and my favorites are probably Clannad, Baccano, Death Note, Fullmetal Alchemist, and any Miyazaki film.