About

I like anime and live in the middle of nowhereD:
I'm a naruniac (naruto maniac) cha!
I love anime and videogames.
My dad is anti videogames, but whatever lol.
I go to the University of Georgia and I love it!!!
My major is Journalism and my minor is English.
I have a boyfriend and I love him bunches

I'm super nice and I love gaia.
My friends are the coolest!
I like japanese music...eventhough I can't understand it

My fave foreign artists:

Utada Hikaru


Wang Lee Hom


BOA


Uverworld


All the BLEACH soundtracks :hearts: and many more!
Top 5 songs on my MP3

Tane wo Maku Hibi-Kousuke Atari (BLEACH)

Knock You Down-Keri Hilson, Neyo, Kanye

Eat You Up-BOA

Come Back to Me-Utada Hikaru

River Flows in You (Bella's Lullabye)-Yiruma (Twilight)

I think cartoon violence is cool (dragonball z, naruto,lol).
I love to write fantasy type stories, draw (manga style), play videogames, read shonen jump, and watch anime! To check out some of my writings visit my guild,
Storyteller\'s Guild!!!
And to see my drawings and avi art, visit my art shop,
el Cheapo Avi Art!
I'm afraid of spiders, squids, octopii, tight dark places, koalas, and life-size or glowy-eyed dolls.
I'm always smiling.
I'm kinda shy in person at first, but I'm cool and outgoing once I get to know you.
I also graduated highschool and entered college at 16.
I finally updated this...its been over a year now since I updated it last o.O
Friends
Viewing 12 of 105 friends
Journal
The Beginning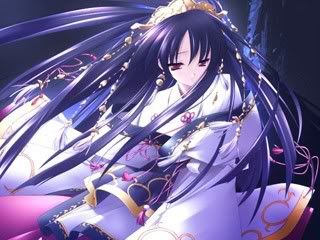 The reason I am who I am, why I feel this way, why I choose to protect...this is the beginning. In this journal I will document my adventures, my strugles, my loves, and my losses. I will tell you my story and hwo fate has chosen me to defeat the Akk
Multimedia