Yeah... Me...
My name is Dan.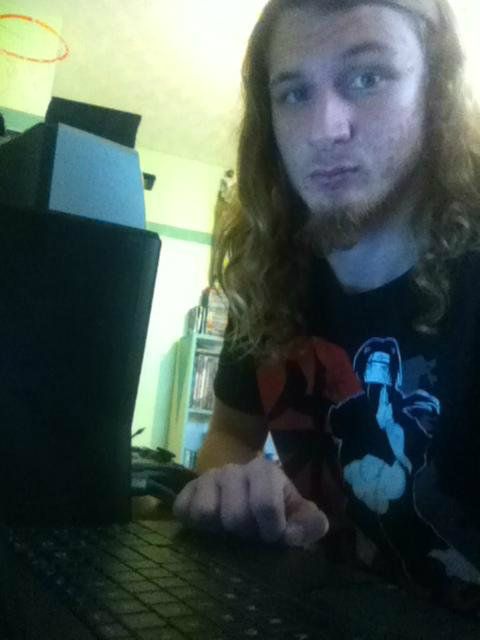 I live in Ohio.
I'm straight.
I'm 20. Birthday's October 11.
I play video games. Halo 3, All Resident Evils, Dragon Age 1 & 2, Skyrim, Fallout 3, Baldur's Gate series, Metroid, Devil May Cry, POKEMON!!!, Legend of Zelda, Final Fantasy, etc.
I also play several MMOs, but not WoW. RuneScape is one that I always return to eventually, even though I know it's terrible. My username is Darthbane218 if you want to add me. I also play Dragon Eternity, Adventure Quest Worlds, and just about anything else I can lay my hands on that's fantasy based.
I am very involved in Belegarth Medieval Combat Society, and my field name is Cel. I also collect medieval weaponry, my favorite piece is a replica of Gandalf's sword Glamdring.
I read comics, both American and manga, and watch anime. Also, I love Homestuck.
I play both Yu-Gi-Oh! and Magic: The Gathering competitively and regularly compete in tournaments.
Yes, that's an Itachi shirt.
And this is me with DJ Helsing at the Gaia panel at Ohayocon 2012.
The quality is absolute s**t, but my friend had to take it in a hurry, he's a busy man, working on awesome websites and all that. I'm the one on the far right, he's the one immediately to my left. I was just happy to meet him, he also signed a Gold card, which I keep as the cover of my Yu-Gi-Oh! trade binder, along with some awesome avi art by zombie_beatles_babe.
This is my dream avatar.

Still need:
Steel Plate Ninja Band
Ancient Katana