About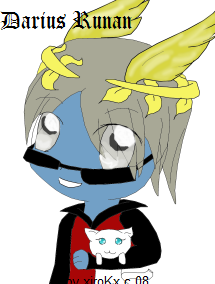 Hoo boy haven't updated this in a while

They call me Darius Runan around these parts. Others call me Runando or Runa as well. Feel free to call me whatever you like.
Here's a tidbit of info about me....
Real Name- Ask me when you know me better.
Age- 28
Hobbies- Writing, gaming, Schoolwork oh and Building crap.
Current activities- I'm in school now, and I'm enjoying it. I'm gonna be a teacher one day. I'm looking forward to that with great interest.
Joined gaia?- back in 03 so i've been here quite a while. I've seen friends come and go and good times and bad. That's just life, even forum life is similar to real life in some ways in my opinion.
Why did I join Gaia?- Well it all started as forum spam on my first message board. I joined for kicks and got hooked. Next thing I knew I'm a gaia geezard lol. It doesn't really bug me though, just means I've seen gaia grow. Some things came, others went. The one thing that always managed to remain was feeling you get after customizing your avatar, or talking in the forums, or checking out the art arena. It still hasn't lost it's lust and that's why I will always have an account on gaia.
Friends
Viewing 12 of 50 friends
Journal
Gaia Temple
Take a look and see
Multimedia