Dalia Salvd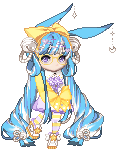 Details
Last Login

03/15/2014 11:52 pm

Total Posts

10214

Posts Per Day

3.05

Member Since

01/12/2005
Location

In the realm of Morpheus, King of Dreams.

Occupation

Professional Somniloquist

Website
---
Interests
Favorite Movies/Anime
Favorite TV Shows
Favorite Reads
About
Yo. This be my profile fo'shizzle-izzle-grizzle. Haha, just kidding. I don't really talk like that.

Anyway, hello! So as you probably know, I'm Dalia Salvd, though they call me Penny offline. Feel free to call me Dalia, Dali, Penny, Supreme Overlord of Everything, that one weird kid, her royal sexiness, or any other sort of clever nickname you can think of. I'll probably congratulate you on your wit.

So I happen to have a wide range of interests. I enjoy anime, manga, contact juggling, knitting, playing clarinet, playing piano, reading, writing, making clay stuff, drawing, doing jigsaw puzzles, video games....a lot of stuff in other words! I consider myself to be a pretty open-minded and interesting person, if far too lazy and messy for my own good. I love every color except pink, though purple is certainly my favorite color. I am very firmly and fondly agnostic. My political views tend to be left/green/peace and freedom-ish: I want people to have freedom and succeed. I am very much I hope to be a famous writer at some point, either of comic books or fiction, and I happen to be a proud geek~

As far as things that make me shameless happy and generally cheer me up, the list is as follows:
Thirteen letter words
Chai Tea Lattes
80's music
80's movies
Buffy the Vampire Slayer
Neil Gaiman
V for Vendetta
My friends
Playing jazz
Italian food
Cillian Murphy <3 <3 <3


If you happen to want to talk to me, go ahead! I enjoy listening to people and talking with people about stuff in general and I have a lot to say. Sorry if you wasted five hundred bagilliofdsakdfhskj hours reading this. Like I said, I have a lot to say! So now I bid you a fond farewell, and while I do not necessarily know you, I hope that your life is good, you are a good person, that this finds you well, and that you are able to achieve your dreams.
Good night and Good luck.
Friends
Viewing 12 of 66 friends
Journal
A little random something
Fear the Shaniqua ramblings!
Poems, short stories, important info, but mostly posts about things that anger or depress me.
Multimedia
Signature
"I heed not that my earthly lot

Hath——little of Earth in it—

That years of love have been forgot

In the hatred of a minute: —

I mourn not that the desolate

Are happier, sweet, than I,

But that you sorrow for my fate

Who am a passer by."