daisy me rolling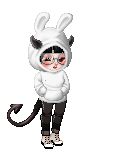 Registered: 11/21/2008
Birthday: 10/04/1993
About
OHI!
whatsuplosers


Hi, I'm Corina. 20 y/o.
If I'm online I am probably bored.
But to be honest I am always bored so I guess I'm online almost everytime
wat oh woooow haha hi im just confusing you am I ok dont read this anymore
I like talking to people so feel free to post a comment or add me and s**t
You should talk to me about stuff. I like stuff.
o and I love ducks.





BBPIN:

24DD12CD


Skype:

overtherainboat
arts&signs i received

★
pls do

u dont have 2 get me these