DaeDalion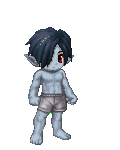 Equipped List
No items equipped.
About
Hello all who visit upon this page.

My name is David, I'm a high school graduate, going to attend college in the spring. I'm one Gaia to role play. It's just a hobby I do in my spare time. If you want to role play then please send a PM with a link to an RP in a guild or forum. I'm not very big on one on one role plays.

Well that's all I have to say. There might be more when I find more to put here.

Bye for now.
Interests
Favorite Movies/Anime
Favorite TV Shows
Favorite Reads
Favorite Music/Bands
Hobbies/Interests