Lalalala
Irasshaimase!!!!Allie desu =3 I only desire 5 things outta life......Friends.....anime...manga....music...AND SUSHI!!!!
Sorry if my Japanese isn't good..I'm still learning.Don't think of me as a wannabe @.@ Cause I'm not.Its like a second culture for me xD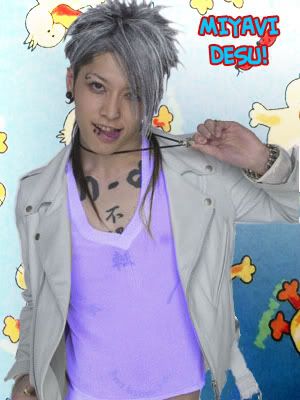 Your Personality is Very Rare (INFP)

Your personality type is dreamy, romantic, elegant, and expressive.
Only about 5% of all people have your personality, including 6% of all women and 4% of all men
You are Introverted, Intuitive, Feeling, and Perceiving.
What's Your Dosha?
You're quick witted and very talkative, but you also tend to have a spotty memory.
You tend to get very into ideas, people, and lifestyles... but only for a short time.
It's difficult to hold your attention, and you sometimes feel with what life has to offer.
With friends: You are very uncomfortable in new situations or with new people
In love: You fall in and out of love very easily
To achieve more balance: Live in a warm climate and spend some quiet time in nature
You Are 60% Weird

You're so weird, you think you're *totally* normal. Right?
But you wig out even the biggest of circus freaks!

|MIYAVI OBSESSED|Congratulations! You're completely obsessed with Miyavi! You live and breathe the man. There's nothing you don't know about him. In fact, you might know more about Miyavi than Miyavi does! Might wanna tone it down a bit..
Take this
quiz
!

|GACKT OBSESSED|GACKT?! You're a Gackt fan! Why are you taking a Miyavi quiz?
Take this
quiz
!

You are Gackt! Hot, sexy and just a turn on in general. Though the media may make you look fast paced and out there... you're actually quite shy and a bit reserved. You rock the guitar, the mic and the piano!
Take this
quiz
!
Gackt or Miyavi?!?!?!! @.@
Total Value: 207,893 Gold
[Item Information]
Item List:
Nitemare Boots
Bone Dragon Helm
Gills
Romani Glasses
Sheer Stockings
Black Rose Band
Those Black 90s Gloves
That 70s White Shirt
X
Elegant Pearl Strand Bracelet
Elegant Pearl Drop Choker
Lex's White Shorts
Black Leather Belt
Black Tie
Chain Of Command
Drop Dead Gorgeous Skull Earrings
Lunar Cloak
~Please Donate any items~