crystal siren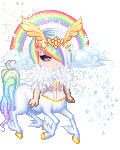 Details
Member Since

03/23/2006
---
Interests
About
Crystal Wishes! I have been on a 6 month or more Hiatus from Gaiaonline and haven't been keeping up with missing orders and such. Please forgive me. If you would still like your order, please IM me the details and I will get it going again for you! Thank you!
I'm crystal siren or you can just call me crystal. I've been on Gaia since 2006 now. So i'm about 8 years old on gaia now wewt!
You can also add me on these sites!!
Deviantart
Tumblr
FlightRising
Journal
Crystal's Toybox
all cute pixels, pets, adoptables, art, art to me, and any other cute thing I'll add here. c: