About
I am now an army wife

with a family of my own

, but i do still blay video games, watch anime, read manga, and most of all am the weirdest person around!! Haha... but really anything else you wana know should be asked and will get an answer!!





SO FOR NOW ENJOY THE RANDOM SAYINGS!
Blood is thicker than water, and much tastier.
"Do not ask which creature screams in the night, Do not question who waits for you in the shadow. It is my cry that wakes you in the night, And my body that crouches in the shadow. I am Tzeench and you are the puppet That dances to my tune."
~Karanzantor the Vile, The Traitor of Xian
"Only love will make your cold heart melt"
"That is not dead which can eternal lie, and with strange aeons even death may die."
-H.P. Lovecraft
"The greatest harm can result from the best intentions."
~Stone of Tears
Without order nothing can exist - without chaos nothing can evolve.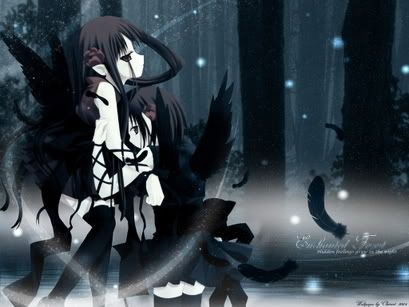 "I stayed up all night playing poker with tarot cards. I got a full house and four people died."
~Steven Wright
"Sure, they were all going to die, but they'd go out with their middle fingers upraised in the oldest salute known to the world."
-The Queen Of Swords
"I am ready to meet my maker. Whether my maker is prepared to meet me is another matter."
-Winston Churchill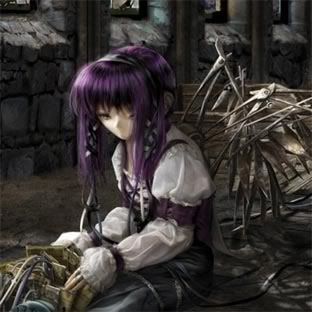 "Guys, I'm drinking Jolt. In about 3 minutes, my reaction time is going to exceed twice that of normal men. Steal another fry, I break your fingers."
- Unknown
"Never hit a man with glasses; hit him with your fist."
-Anonymous
There's an invariable rule in mens' battles. It states: "An ugly macho guy can never beat an intelligent, slender, popular, and handsome hero." Your death was sealed when you appeared with that ugly face.
-Dark Schneider, b*****d! Destructive God of Darkness
Wars take many lives away. Humans never forget the grief, but they also never stop the fighting. Streams of blood and tears are only an ornament for their destructive ritual.
-Duo Maxwell, Gundam Wing
"Don't let them push you around, for every bruise they give, give them five broken bones"
-Jackal
"We wear the mask that grins and lies..it hides our face, and shades our eyes....ah, but let the world dream otherwise, we wear the mask!"
"I was summoned to greet Death with open arms, but I was pushed aside to live forever in his shadow."
-Jedidiah Knight, my character
Tired of these endless games,
Time to end the darkened day
To raise the sword
To kill the light
Because there is no reason left to fight..."
-Night Oasis
I wanted you to see what real courage is, instead of getting the idea that courage is a man with a gun in his hand. It's when you know you're licked before you begin but you begin anyway and you see it through no matter what.
"Everything you do will come back upon you. 3-fold for the normal s**t, 10-fold for the freaky s**t."
-Lycorne
The greatest and the smallest, light and dark, right and wrong - they all come together to form the miracle that is life, and none can exist without the others.
-Silvetris
"Do not stand in a place of danger trusting in miracles."
-Arabian Proverb
"You're welcome to believe that the world is a nice, logical, rational, safe place... You'll be wrong, but that hasn't stopped anyone else who thinks the same way."
-Dierdre, Otherworld by Mercades Lackey and Holly Lisle
On a tombstone:
Remember man, as you walk by,
As you are now, so once was I.
As I am now, so shall you be.
Remember this and follow me.
To which someone replied by writing on the tombstone:
To follow you I'll not consent
Until I know which way you went
We're all in this alone.
I came, I saw, I had no idea what was going on, I left.
http://www.geocities.com/deadryce/agquotes.html