Creativerealms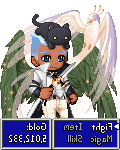 Last Login: 01/17/2016 10:34 am
Registered: 09/14/2004
Gender: Male
Location: unknown
Birthday: 02/23/1982
Equipped List
Interest Tags
Favorite Movies/Anime
Favorite TV Shows
Favorite Reads
About
At this time i'm only doing this stuff for the gaia points.
Journal
Creativerealms's Journal
Just something to write in when I want to write.
Signature
My response to most dubs people say are bad. "If that's a bad dub then I'm a Banana." If you don't know what anime I paraphrased from then you don't know what a bad dub is.