-Crazy I3eautiful Life-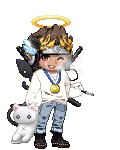 Birthday: 10/09
About
Hey! Here are some facts about me:
~Name is Kody, yes with a K.
~Age is 16 (Birthday is Oct. 9, 1997)
~GAY
~I'm a dude - Just saying for the air heads out there.
~My insecurities are endless, so no sense naming them.
~I love cats.
~I have a Facebook.
~I have a Tumblr
~Follow me on Instagram @ohhkodyyyyy
~Kik me @OhhKodyyyyy
~My favorite color is mint green
~I love you, unless you give me a reason not to.
Well that is it.