About
MY YOUTUBE-Support me!
CLICK ABOVE!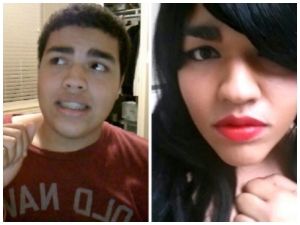 Let's Start Being Honest.....starting now...
First off I have been a member for awhile now. I would have to say at least 3+ years. I realized early that having a woman avatar actually made your life easier on here, but things have slowed down and I feel that keeping up this charade is boring and I being myself is more fun.
I am what you can call a (semi) transgendered human being who classifies as human then a gender. I dress like a man and a woman at different points of time, I like things that are considered more "girly" and also things considered "manly" yet I look at everything as things I just find interesting.
tl;dr - I live for myself, not others, and I am happy with the way I live.
Marcus/Victoria are the names I go by. Whichever clothing I am dressed in is the name I would like to be called. It's very simple and disrespect gets you nowhere with me. I also don't put up with close minded people who try to project their gender stereotyped life onto me.
My birthday is June 18th and I am 19 years young. Having a summer birthday, I got to graduate at the age of 17, but I never got my birthday called out until the very end of the year in elementary school....which stunk!
I also am am a college student, majoring in theatre. I love it and I think that everyone should go if they can afford it. So many fun memories already made.
I love music, clubbing, pokemon, lifetime movies, dance games, animals, nature, kawaii things, and acting. I am also into a various television series

Devious Maids, Dance Moms, Ugly Betty, MisFits, being on the top of that list.
I am a role player and I love all sorts of role plays. I may like group role plays in the forums, but 1x1 role plays are more fun to me. So if you want to role play just send me a message, but I do like having a picture of the characters before I start. So like I said, send me a message! :3
Also if you want to get to know me then all you have to do is leave a comment or a message.
Friends
Viewing 12 of 78 friends
Multimedia
Signature