Cosplay Hime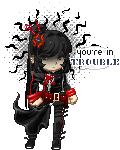 Birthday: 09/30

Kagura Mikazuchi


Silent but deadly.
Anime :

Fairy Tail


Cosplay with ; IAVI; Saramanda Natsu Dragneel; InfiniteCrisiss; Rogue-Kun; moosiesquatched

Levy McGarden


Bookworm and extremely smart!
Anime :

Fairy Tail


Cosplay with ; IAVI; Saramanda Natsu Dragneel; InfiniteCrisiss; Rogue-Kun; moosiesquatched

Asuna Yuuki


Cheery and Online video game player!
Anime :

SAO [Sword Art Online]


Cosplay with ; Rogue-Kun

Mio Akiyama


Very helpful but awfully shy!
Anime :

K-On!


Cosplay with ; Yui-Onesan

Weiss Schnee


Ice Queen to your dust
Anime :

RWBY


Cosplay with ; N/A

Blake Belladonna


Freedom to your True Nature
Anime :

RWBY


Cosplay with ; N/A
Behind Cosplayer
I'm nice, big time

OTAKU~!


I personally love any anime/manga that contains action, beautiful images and hot guys~!
I like strawberry kisses, my best friends and going on pixiv.com for great fanpictures and anime pictures!
Dont be hating on my likes?
I dislike people being rude to others and

DEFINITELY

don't like bugs! >[]<
If you want to talk with me or hang with me in towns just ask and I'll try to find the time!
I'm here time to time and will cosplay more! :3
If there's an item you like on my avatar and want to know? Don't be shy to ask! Though i do mind about copy caters, but please don't copy how most my characters look or it'll make my hard work in finding these items seem too easy ( '3')
I'll give you this! The most items I use for my cosplays are mostly the Princess items(Princess of the World,Princess of the Universe) for legs and Masquerade for either bangs, mascara and blush!
Comment
My current OTP