constantLogic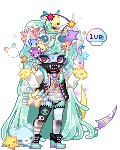 Details
Last Login

07/24/2017 3:33 am

Total Posts

39668

Posts Per Day

9.05

Member Since

07/24/2005
Gender

Male

Birthday

11/26
---
Interests
About

Okay well I guess I should put something here so it doesn't look so empty!
My name is con! I've been here on Gaia for a long time, off and on, but they'll have to kick me out now. I love fashion and avatar making, and I hang out in CB sometimes, other times B/C, where I run
Animal Crossing: Big City.
I love many kinds of artistic endeavors, languages, and monster boys, but for a career I program and code. I made this profile layout, and if you bribe me high enough I might make one for you, too (or not, I'm a pretty busy guy).
Journal
There's nothing here. Just move along.
Signature

Animal Crossing:
Big City
Do it for
aesthetic