Connard Child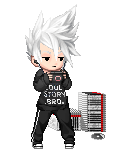 Last Login: 08/28/2016 6:45 pm
Registered: 07/06/2010
Birthday: 05/07
Stupid s**t About Me
Help, I'm alive.
Age: 20
Gender: Mocha Frappe with carmel mixed with genderfluidness and whatever they have in todays world.
Name: Sam
Likes: food, video games, longboarding, bass, ukulele, any type of art, and being an a*****e.
Dislikes: When there's no wifi.
My life: Currently studying to be a video game designer/tester. I did culinary for a while but was too stressful. (please don't ask me to cook for you because I will give you a beautiful middle finger)
Relationship: Currently talking to nobody. Oh, and Pixel Art.
Useless facts: I love whales. I have a hamster. My idol is Hayley Kiyoko. My instagram is Pixel_me_this. Kik- EatTheSammich. My steam is Cabin_Boy.