About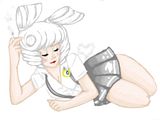 :!:Other Examples:!:
[x]
[x]
[x]
[x]
[x]
[x]
[x]
[x]
[x]
Hello~! I'm an artest and general hermet. I Love horror movies and trying out new crafts. I draw av art if you can't tell and I welcome all offers. I do prefer gettin' items from my wishlist instead of gold though. Just seems to cut out the middle man.
Friends
Viewing 12 of 14 friends
Signature

Heyo!! Pm me if you would like to buy some art!


Check out my Tumblr to see more pics! The Art Shop of Fuse