Collizio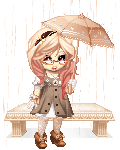 About
Hello, you can call me col(l) or colli(e).

Actually my name is Elizabeth. Nice to meet you.

Gosh, I do say 'gosh' a lot, old sport.

Two standards:


(1)

I always change my avatar when I get a new item. Even with the cheapest one imaginable.


(2)

Always a work of art in my signature that complements said avatar change. I like art.

If you'd like, leave me a comment and we'll chat. I live in the U.K, but I am on Gaia at all times of the day. I am addicted to the WG, so if you've ventured here from there, lets be friends. The internet isn't very friendly. But I am.

My greed knows no bounds. You see my wishlist over there? It will never get any shorter.
I have a lot of ideas for avatars
, but not a lot of time to farm for gold, any help would be appreciated, but it's not mandatory!
Donations and art gratefully received from:
Hucking Foes
- 80k
Quote of the day
- Kelp o' th' Loch, Moonstone Borealis, McKing's Saintly Cache, Team Gambino Uniform
Anonymous
- Norseman's Expedition, White Pearl Hairpin, Long Stem Red Roses, Gramster Chocololli
Madame-Linwe
- Mimzy
Holy Slayer
- 160k, Time Lapse Gala, Bewitching Minstrel, Firefly's Flame, Follower of Easter Bunny, Rookie Detective
The Zoof Wizard
- 20k, Oculus Magica, Enchanted Book
Itsii
- Masquerade
WG Summer Secret Santa
- Lady Longshot, Yo-Yo Mi, Raging Night Jewel, Joyful Dreams Air (holy hell thank you anon, whomever you are!)
Payonai
- 400k
Anon (Aka "The Tea Goddess")
- Ruffed Up Showgirl, Black Butler: Madam Red
Shadow Belmonte
- Star Pointer
SwordsmanChris
- Oh my Pizza Box, Friendship Pendant
Kaleidomicroscopic
- Hazardous Punk
Mastermind Junko
- Under the Big Top, Witch Bubble
Yuuna-Kiri
- Hanakage's Dance
Shin Majin
- Someone Please Help Me
Izuna_13_13
- Celestial Veil
Nyumonster
- Throwing Knives
Buttlovski
- Energetic Plantimal



Thankyou~
How will I repay all of you gosh
Payonai draw some art of my avatar!
Friends
Viewing 12 of 51 friends
Signature


'The ghost of Oyuki' by Maruyama Okyo (1750)
None of the art in my signature is owned by me, obviously.


Please visit my store if you get a chance to.