About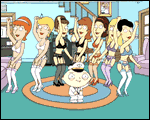 It's time for a sexy party!
AC/DC, The Adicts, AFI, Against All Authority, Against Me!, A Global Threat, Alice Cooper, Alien Sex Fiend, Alkaline Trio, American Head Charge, American Nightmare, A Minor Threat, Angry Aryans, Anthrax, Anti-Flag, The Aquabats, Arch Enemy, Bad Religion, Balzac, Battleheart, The Beatles, Benny Benassi, Black Flag, Black Halos, Black Label Society, Black Sabbath, Blakq Audio, Blitzkid, The Blood Brother, The Bloodhound Gang, BOC, The Bouncing Souls, The Briggs, Brutal Attack, Buck O Nine, Cab Calloway, Cake, Carl Perkins, The Casualties, Catch 22, Children of Bodom, Choking Victim, The Clash, Circle Jerks, Converge, Corrosion of Conformity, Cradle of Filth, The Cramps, Crass, The Cure, Daft Punk, Danzig, Dead Kennedys, Demented Are Go, DevilDriver, Dimmu Borgir, Dio, Disturbed, DJ Shadow, DOA, Dropkick Murphys, DVDA, The Dwarves, Elvis, Eminem, The Exploited, The Faint, FEAR, Fear Factory, Felix da Housecat, Fiona Apple, Flogging Molly, Flyleaf, Frankenstein Drag Queens from Planet 13, Full Devil Jacket, Garbage, Generation X, GG Allin, Guns n Roses, GWAR, Hellogoodbye, INDK, Infected Mushroom, Johnny Cash, Journey, Kelly, KillRadio, KISS, Ladytron, Leftover Crack, Machine Head, Madonna, Manic Spider Trash, Mannequin, Marilyn Manson, The Mars Volta, The Matches, Megadeth, Melvins, Metallica, The Misfits, Motograter, Motorhead, Motley Crue, Mindless Self Indulgence, Mr. Bungle, The Murderdolls, Muse, Necrophagist, Nine Inch Nails, Nirvana, Operation Ivy, OTEP, Overkill, Pantera, The Pixies, Poison Idea, Prodigy, Queen, Radiohead, Rage Against the Machine, Rammstein, The Ramones, Rancid, Ratatat, Rattlehead, Reagan Youth, Reel Big Fish, RJD2, RKL, Rob Zombie, Running Wild, Samhain, Scorpion, The Sex Pistols, Sham69, She Wants Revenge, Skid Row, Slayer, Slipknot, Smashing Pumpkins, Social Distortion, Sonic Youth, Streetlight Manifesto, Subhumans, Sublime, Superstar DJ Keoki, System of a Down, Tiger Army, Twisted Sister, The Unseen, Venom, The Vibrators, Vio-lence, Vitalic, VNV Nation, Wednesday 13, White Zombie, Zeke
Friends
Viewing 12 of 35 friends
Journal
How come Andrew gets to get up? If he gets up, we'll all get up, IT'LL BE ANARCHY!
Well I don't have anything else planned for today, let's get drunk!
Signature
I was drowning in a sea of liquor...and I washed up on a beach of cocaine...the sky was made of LSD...and every tree was made of pot! The cops pulled me over...but they did not arrest me, instead they sucked my d**k! DRUGS