Cleocatra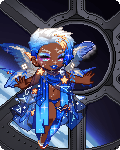 Details
Member Since

04/20/2005
Location

England!
---
Interests
Favorite Music/Bands
About

Hallo! I'm Cleo.
I made this profile myself. I took the picture which is in my garden, and I've uploaded the full one and others to
my deviantart account
.
I like listening to
music
of all different
k
i
n
d
s
. Infact, there is not much music I hate. I don't tend to like country, most of it sounds like they're strangling a tone-deaf cat, and I like cats. If you want to know whether I like a certain band or group, just
pm me
or
comment
and I'll get back to you.
I have an
art shop
I'm cheap and punctual =w= as well as reasonably good!
I like being friendly to people, and helping them out when I can, though I can get annoyed at times. I tend to spend most of my time on the computer, and have only recently been watching teeny bits of tv.
I love cartoons. I enjoy having long conversations about X-men, Justice League and Spiderman. Sometimes the conversations can go in strange directions, but those can be the best ones.
I love anime. I shout at the dubs, and refer to people by their japanese names. This confuses people.
I love manga as well. Though I can often forget many names. In Prince of Tennis I name them by description, or nickname. Such as Viper, Jewish, Redhead, Prodigy and Almighty Leader.
I love innuendo.
No, in YOURendo.
So many hilarious conversations... heh.
Now-a-day I tend not to enjoy watching tv. Unless it's cartoons or comedy. Such as
Red Dwarf
,
Blackadder
or
'Allo 'Allo
. There's not too much good on tv now-a-days. It's all reality tv, and not the good sort. Gone are the days when we could laugh our heads off at good old
family fortunes
... Wait. It's coming back! Woo! I want to see more
Takeshi's castle
as well..
I've been watching Ouran High School Host Club recently, and I want to watch as many different types of anime as possible! Though I'm slightly hesitant about Orotsukidoji: Legend of The Overfiend.
There are loads of movies I'm yet to see @_@ I like many types though.
Just talk to me and you'll find out more =)
Journal
Nothing of real importance.
In here is basically just code, and memos. I never really keep diaries.