About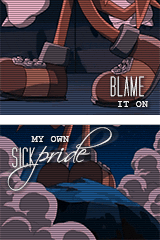 Knuckles was born and raised on Angel Island. He is the last surviving member of the remainder of the Knuckles Clan, a long-lost tribe of echidnas, which devoted themselves to protecting the Master Emerald after Pachacamac incurred the wrath of Perfect Chaos who nearly completely wiped them out 4,000 years ago.

Despite his peoples' colorful history, Knuckles' own past was a mystery to him; he did not know how he came to be, nor what other reasons he had for existing, and he believed himself to be the last of his kind entirely. The only thing Knuckles knew that for as long as he could remember, he had been living on Angel Island, protecting the Master Emerald. He did not know why he was compelled to fulfilling this task, only that it was his sworn duty and fate to protect the Master Emerald from anyone who wanted to abuse it. As far as Knuckles knew, this was his purpose in life, and he was content with that.

For much of his life, Knuckles stayed close to the Master Emerald's shrine, steadfastly protecting the Master Emerald while having little to no contact with the outside world. Over time, Knuckles became friends with all the animals and the nature itself on Angel Island.