chubsy wubsy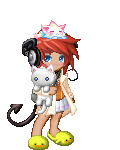 About

I guess I should put something here.
I am a vampire, zombie killer person.
I sometimes fly at night, but when I don't fly at night I tend to sleep.
I have a massive gun collection in my basement closet.
I am 450 years old.
I can also shoot fire through my eyes and have x-ray vision.

That's all


Jan 8,2014
Journal
Random rants and stuff
This is just my random rants for myself, and others who give a crap.
Signature
باسم الله الرحمن الرحيم
Take this kiss upon the brow!
And, in parting from you now,
Thus much let me avow-
You are not wrong, who deem
That my days have been a dream;
Yet if hope has flown away
In a night, or in a day,
In a vision, or in none,
Is it therefore the less gone?
All that we see or seem
Is but a dream within a dream.
Questing Teddy Bear March

Thank you ImHotPink4ever for your lovely donation!