Chris Redfield: S.T.A.R.S. Alpha Squad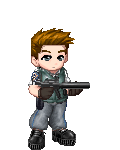 Last Login: 01/22/2010 1:58 am
Registered: 02/23/2007
Gender: Male
Location: Raccoon City, U.S.A.
Interest Tags
Favorite Movies/Anime
Favorite TV Shows
Favorite Reads
Favorite Music/Bands
Hobbies/Interests
About
This is a fan/cosplay profile for one of the all-time most epic games, ever, Resident Evil.

Now, if only my freakin' knee pads would show up.

Again, this is a FAN avatar. So, all the OTHER Chris Redfields can grow up and quit spamming my comments, now. *rolls eyes*
Signature

...itchy.......tasty...