Chilinilly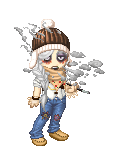 Details
Last Login

06/17/2015 2:04 pm

Total Posts

2808

Posts Per Day

0.84
Gender

Female

Birthday

06/22
---
Interests
Favorite Movies/Anime
Favorite TV Shows
Favorite Music/Bands
About
I'M FROM TEXAS Y'ALL!


Well hello there. (: Seems like you have stumbled onto my profile. xD
If you care enough to read a little about me. Here it goes.
*clears throat*
I'm Chili you can also call me Ili.

I've been a member of Gaia Online since
March 2007, I believe. I'm 20 and a junior in college! Umm..I'm hispanic
and fluent in spanish...for the most part. xD I love musicals, music, movies, food,
and history! I'm not as active as before because now I am forced to do
grownup things like driving, working, and cooking. Bleh.

Anyways I
still get on when I can. So don't
be afraid to comment me or message me I like interesting conversations!
They might be slow replies but I WILL reply!
Promise.

Multimedia