Chibi-Speck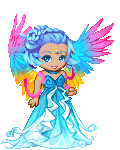 Last Login: 03/29/2014 8:03 am
Registered: 04/22/2006
Gender: Female
Location: I have NO idea. Looks like in the middle of a cornfield...
Birthday: 06/04/1991
Interest Tags
Favorite Movies/Anime
Favorite TV Shows
Favorite Reads
Favorite Music/Bands
Hobbies/Interests
About
Hello, I am the Chibi-Speck! I still have not reached 5 feet tall) and am an East Asian Studies major with a Chinese minor.

One can usually find me in RPs and such on Gaia. I prefer literate RPs and am usually picky about the RPs I join. I also sometimes participate in art auctions and have my own art shop in the forums.

My pastimes include reading(a lot of it), drawing, and writing stories. I have close to forty characters and spend time coming up with background stories for them and seeing what artistic depiction I can give the newer ones.

That's about it, I hope you enjoy my profile and thanks for stopping by!