About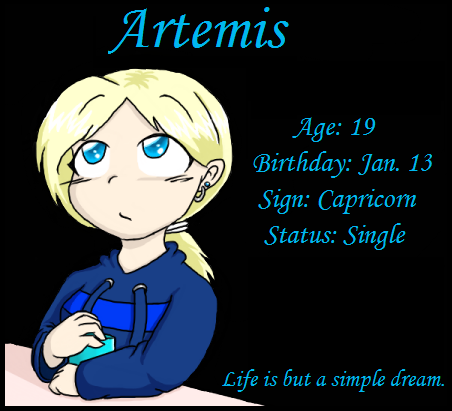 The images above is my own original artwork.
And

no

, you may not use them without my permission.
I, like any other artist, worked hard on my art and expect my wishes to be respected when I give the terms on which my art can be viewed or used.
*~*~*~*~IMPORTANT NOTICE FOR ALL VISITORS~*~*~*~*
I DO NOT ADD FRIENDS WITHOUT PROBABLE CAUSE!!
Send me random friend requests and I will put you on ******** IGNORE!!! D<
Unless I've met you inna chat, on a board, or have TALKED WITH YOU in general, I DO NOT and WILL NOT accept
random
friend requests!
Period!
*~*~*~*~REGARDING ART~*~*~*~*
Commissions are accepted, but keep in mind I have the option to decline. If your request is declined, I'm sorry. I've either too much to do at the time OR I feel my skills aren't up to the task. ( I don't like to disappoint and yes, I am a perfectionist. ) Still, if you'd like to pitch your idea and commission me, then I'd be happy to speak with you!

P.S.: I do NOT do gift arts, so don't even bother asking me! And I do NOT take art trades.

Life is but a dream...

Friends
Viewing 12 of 127 friends
Journal
Arty's Personal Journal
A collection of thoughts, rants, facts, fiction, and altogether random blahness found in a journal.
Multimedia
Signature
With just one kiss
You could change the world
Might not be much better
But it certainly couldn't hurt