Chewie -S- Dew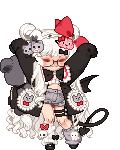 Birthday: 02/02
Equipped List
About
Addiction
Originally known as:

Chewie_Dew
Dewie_Chew
Cioccolato Cuore

Hiya! My name is Ellis!

I'm female.
Caribbean. (St. Croix)
I like to draw, read, and box (boxing).

Main goal here so far is- I have no idea now.
Coming back here with an interest.
Will continue to get my art stuff for others here done. Nuff said.

I created all art and pixel art in this profile.
Heads up to customers:
I'm a very slow artist due to work, so chill and be patient.
Art Status: Open! (

Come on in~*

)


Signature

Drawn by me
(pokemon Moon) Friend code: 5301-3191-8448
(pokemon X) Friend code: 3368-2158-0989