About

Cheshire's Profile


Welcome to My Profile.

Let's see, here...I'm suppose to write stuff here, aren't I? Um..., alrighty then:


Cheshire's Info




Name:

Cheshire Hatter YumiStar



Age:

21 Years



DOB:

January 21st, 1991



Likes:

Art, drawing, anime, Japanimation,

Not a Weeaboo!

, Manga, Manga styles, Music, [******** Generes[/strike], VOCALOID, Yu-Gi-Oh!,

The Origianl. Not GX or 5 D's

, Kuroshitsuji, Yaoi, Tim Burton, Game designing, Bottle caps, I-pod, A Banquet for Hungry Ghosts

It's ghost stories!

, reading, writing, MySims Series, Animal Crossing: City Folk, Kingdom Hearts, Cookies,

Pornz, Napping

, My friends and family.



Dis-likes:

Homophobia

it's gay

, those annoying Church people that make other people into homophobes (you know who you are!), Gangs, smoking, Twilight (there, I said it), Alcohol, the paparazi, George Bush, and people who blow fireworks after/before 4th of July.
My Other Profiles

DeviantART Profile
YouTube Profile
FF.net Profile
My Current Obsession is Bakurae. End of Story.
Some Nice Bakura Pictures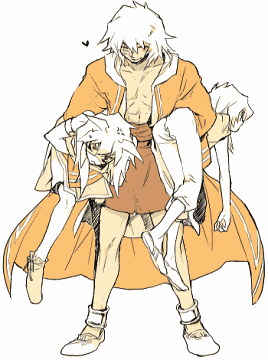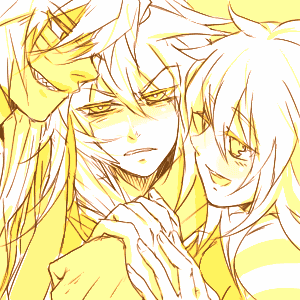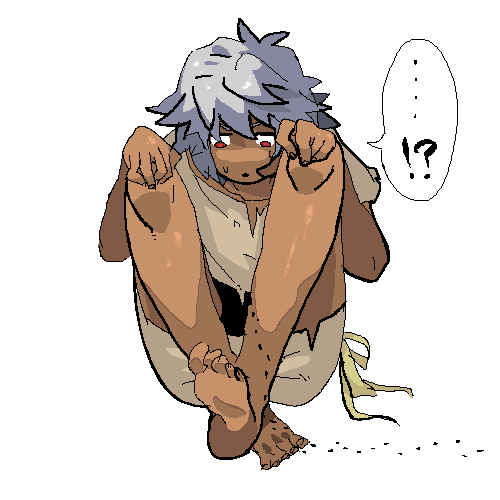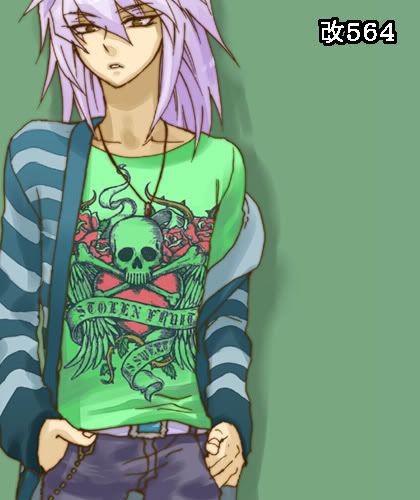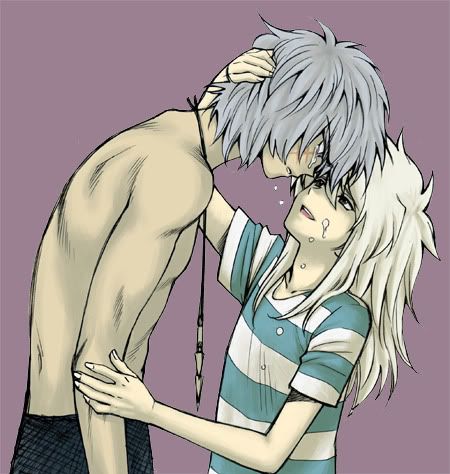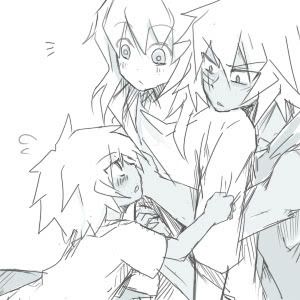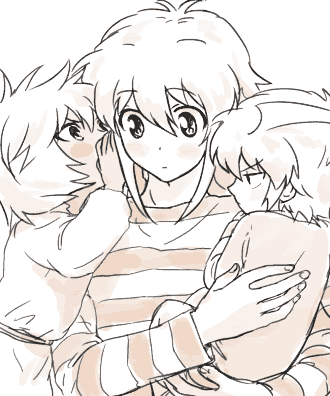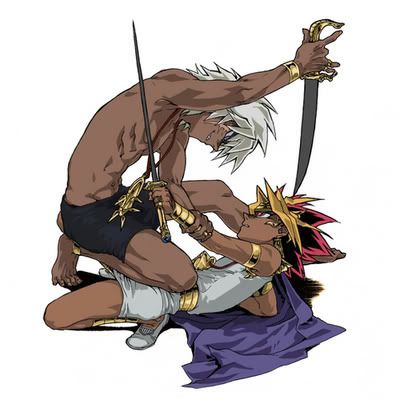 My Videos

[MMD] Secret Black Vow
Bakura Tribute Ray of Light Ending[SUBS]
Scissorhands A Bakushipping Tribute [Subbed]
LeftBehind City ~A Baku Tribute [Subbed]
Moonlit Bear [Shattered-Mirror-Me Style]
The Tale of Moonlit Abandonment [Shattered-Mirror-Me Style]
Bakura Tribute-Monster Fable
The Adorable One [Comic Dub]
Taishou.a [Bakurae Tribute]
Higurashi no Naku Koro ni [Bakurae Tribute]
A day in the life of Marik

Other Bakura Videos

Halloween Special 7 - Bakuras Story
(tegaki YuGiOh)bakuuuura
Bakura Overlap Intro (Full)
Bakura Anime Intro
In the Dark of the Night (Anastasia) Thief King Tribute
Thief King Bakura - Vocaloid - Shinkirou no Janna
Bakura: Naraku no Hana
Usamimi no Naku Koro ni
The Greatest Show Unearthed Nightmare Circus
Nightmare Circus

Bakura Icons

































[IMG]http://i80.photobucket.com/albums/j161/X_YumiStar_X/YuGiOh/YuGiOh ********]

Random Stuff


~I don't suffer from insanity. I enjoy every minute of it!
~I have multiple personalities and none of them like you.
~I have no idea what I'm doing out of bed.
~Everyone has the right to be stupid. But you're abusing the privilege.
~Growing old is mandatory; growing up is optional!
~Whoever said that 'nothing was impossible' never tried to slam a revolving door.
~When life gives you lemons, make apple juice, then sit back and enjoy while others try to figure out how you did it.
~Even if the voices aren't real, they have some good ideas.
~Stupidity killed the cat. Curiosity was framed.
~There's always a light at the end of the tunnel. Of course, it's usually an oncoming express train.


()()
(0.0)
( _ )
Copy and paste this bunny into your profile to help it achieve world domination. Come to the dark side (we have cookies.)


/l、
(゚、 。 7
l、 ~ヽ
じしf,)ノ
Yaaaay kitty!
This is Kitty. Copy and paste Kitty into your signature to help him gain world domination.

Sad Stuff


Try Not To Cry

Mommy...Johnny brought a gun to school,
He told his friends that it was cool,
And when he pulled the trigger back,
It shot with a great, huge crack.
Mommy, I was a good girl, I did what I was told,
I went to school, I got straight A's, I even got the gold!
When I went to school that day,
I never said good-bye.
I'm sorry that I had to go, But Mommy, please don't cry.
When Johnny shot the gun, he hit me and another,
And all because Johnny, got the gun from his brother.
Mommy, please tell Daddy; That I love him very much,
And please tell Zack; my boyfriend; That it wasn't just a crush.
And tell my little sister; That she is the only one now,
And tell my dear sweet grandmother; I'll be waiting for her now
And tell my wonderful friends; That they always were the best
Mommy, I'm not the first, I'm no better than the rest
Mommy, tell my teachers; I won't show up for class,
And never to forget this, And please don't let this pass
Mommy, why'd it have to be me? No one, though. deserves this.
But mommy, it's not fair, I left without a kiss.
And Mommy tell the doctors; I know that they really did try
I think I even saw one doctor, trying not to cry.
Mommy, I'm slowly dying, with a bullet in my chest,
But Mommy please remember, I'm in heaven with the rest
When I heard that great, big crack, I ran as fast as I could
please listen to me if you would,
I wanted to go to college, I wanted to try things that were new
I guess I'm not going with Daddy, On that trip to the new zoo
I wanted to get married, I wanted to have a kid,
I wanted to be an actress, I really wanted to live.
But Mommy I must go now, The time is getting late,
Mommy, tell my Zack, I'm sorry I had to cancel the date.
I love you Mommy, I always have, I know you know its true
And Mommy all I need to say is, "Mommy, I love you"

In Memory of The Columbine & Virginia Tech
Students Who Were Lost

Please if you would,
Don't smash this on the ground.
If you pass this on,
Maybe people will cry,
Just keep this in your heart,
For the people who didn't get to say "Good-bye".
Now you have 2 choices,
1) Pass this on, and show people you care, repost as
"Try Not To Cry"
2) Don't send it, and you have just proven how
cold-hearted you really are...

Daddy ... It hurts

This is A TRUE STORY

My name is Chris,
I am three,
My eyes are swollen..
I cannot see.

I must be stupid,
I must be bad,
What else could have made,
My daddy so mad?

I wish I were better,
I wish I weren't ugly,
Then maybe my mommy,
Would still want to hug me.

I can't do a wrong,
I can't speak at all,
Or else I'm locked up,
All day long.

When I'm awake,
I'm all alone,
The house is dark,
My folks aren't home.

When my mommy does come home,
I'll try and be nice,
So maybe I'll just get,
One whipping tonight.

I just heard a car,
My daddy is back,
From Charlie's bar

I hear him curse,
My name is called,
I press myself,
Against the wall.

I try to hide,
From his evil eyes,
I'm so afraid now,
I'm starting to cry.

He finds me weeping,
Calls me ugly words,
He says its my fault,
He suffers at work.

He slaps and hits me,
And yells at me more,
I finally get free,
And run to the door.

He's already locked it,
And I start to bawl,
He takes me and throws me,
Against the hard wall.

I fall to the floor,
With my bones nearly broken,
And my daddy continues,
With more bad words spoken.

'I'm sorry!', I scream,
But it's now much to late,
His face has been twisted,
Into a unimaginable shape.

The hurt and the pain,
Again and again,
O please God,
have mercy!
O please let it end!

And he finally stops,
And heads for the door,
While I lay there motionless,
Sprawled on the floor.

My name is Chris,
I am three,
Tonight my daddy,
Murdered me.

And you can help,
Sickens me to the soul,
If you read this,
And don't pass it on.

I pray for your forgiveness,
You would have to be,
One heartless person,
Not to be affected,
By this Poem.

And because you ARE affected,
Do something about it!
So all I ask you to do,
Is pass this on!

IF YOU ARE AGAINST CHILD ABUSE!
Post this as 'Daddy ... It hurts'

Homophobia and You:
They're people too! Stop the hate and spread the love!
I am the girl kicked out of her home because I confided in my mother that I am a lesbian.

I am the prostitute working the streets because nobody will hire a transsexual woman.

I am the sister who holds her gay brother tight through the painful, tear-filled nights.

We are the parents who buried our daughter long before her time.

I am the man who died alone in the hospital because they would not let my partner of twenty-seven years into the room.

I am the foster child who wakes up with nightmares of being taken away from the two fathers who are the only loving family I have ever had. I wish they could adopt me.

I am one of the lucky ones, I guess. I survived the attack that left me in a coma for three weeks, and in another year I will probably be able to walk again.

I am not one of the lucky ones. I killed myself just weeks before graduating high school. It was simply too much to bear.

We are the couple who had the realtor hang up on us when she found out we wanted to rent a one-bedroom for two men.

I am the person who never knows which bathroom I should use if I want to avoid getting the management called on me.

I am the mother who is not allowed to even visit the children I bore, nursed, and raised. The court says I am an unfit mother because I now live with another woman.

I am the domestic-violence survivor who found the support system grow suddenly cold and distant when they found out my abusive partner is also a woman.

I am the domestic-violence survivor who has no support system to turn to because I am male.

I am the father who has never hugged his son because I grew up afraid to show affection to other men.

I am the home-economics teacher who always wanted to teach gym until someone told me that only lesbians do that.

I am the man who died when the paramedics stopped treating me as soon as they realized I was transsexual.

I am the person who feels guilty because I think I could be a much better person if I did not have to always deal with society hating me.

I am the man who stopped attending church, not because I don't believe, but because they closed their doors to my kind.

I am the person who has to hide what this world needs most, love.

I am the person who is afraid of telling his loving Christian parents he loves another male.


Friends
Viewing 12 of 104 friends
Journal
Cheshire's Papyrus
Just stuff I feel like writing about.
Multimedia