About
"I don't make jokes. I just watch the government and report the facts." -Will Rogers
"Don't you wish there were a knob on the TV to turn up the intelligence? There's one marked 'Brightness,' but it doesn't work."
Gallagher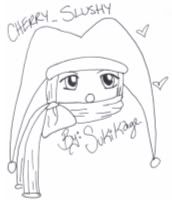 <-----drawn by the lovely SukiKage



<---drawn by the wonderful Sasio
In Pallet Town, born and raised
Out with the Pokemon is where I spent most of my days
Chillin' out, mazin', relaxin' all cool
Doin' some battles outside of the school
When that f*****t Gary he was up to no good
Started battlin' me in my neighborhood
I got in one little battle and my mom got scared she said
"You're goin' on a journey, not that I care"
I whistled for a Pokemon, and when it came near
It's type was electric and it had a stripes or it's rear
If anything I could say that this Pokemon wasn't rare but I said
Yo away from here!
I pulled up to a plateau about 7 or 8 and I said to the Pika
We're not home, I'll see you later!
I looked at my kingdom
I was finally there,
To sit on my throne, as the Master of Pokemon
^by dante *****

Friends
Viewing 12 of 31 friends
Multimedia